TEMA DESTA EDIÇÃO SERÁ GERAÇÃO PRÓPRIA DE ENERGIA
21, julho, 2017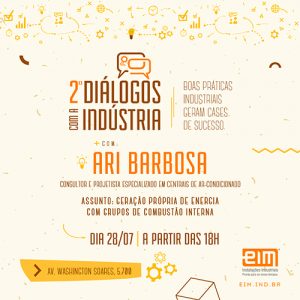 Consultor e projetista especializado em centrais de ar condicionado, o engenheiro Ari Barbosa é o convidado da 2ª edição do "Diálogos com a Indústria", que se dará no dia 28 de julho (sexta-feira), às 18h, na sede da EIM Instalações Industriais (Av. Washington Soares, 5.700).
O engenheiro apresentará o case "Geração própria de energia com grupos de combustão interna", tema que abordará os seguintes tópicos: disponibilidade de combustíveis alternativos para grupos geradores já instalados; confiabilidade e praticidade operacional; grande disponibilidade de energia térmica desprendida e desperdiçada no processo de geração – cogeração; nicho de mercado (venda de gases desperdiçados na geração para setores da produção agrícola); e utilização de grupos para atenuação de picos da curva de geração de energia por painéis solares e geradores eólicos – termoacumulação e uso de baterias.
Ari Barbosa é cearense, formado em Engenharia Química (UFC), com especializações em Graduate Training Program pela The Trane Company e em Control Systems for Automatic Regulation for Heating, Ventilation and Air Condicioning pela Johnson Controls, ambas em Winsconsin (USA)
Já atuou como gerente de engenharia e do departamento de projetos na Servtec Engenharia; diretor na Termus Projetos de Engenharia; e sócio-gerente da Projeterm Engenharia. Atualmente é consultor técnico e projetista autônomo para as atividades de ar condicionado, ventilação e refrigeração.
Após a apresentação, haverá happy hour de confraternização e troca de cartões.
Diálogos com a Indústria
Realizado bimestralmente, o projeto tem o objetivo de estimular o debate de ideias, networking e sobretudo o compartilhamento de cases de sucesso ou boas práticas industriais entre clientes, prospects e parceiros comerciais. A 1ª edição se deu no dia 26 de maio com o gerente corporativo de engenharia do Grupo M. Dias Branco, Carlos Simões, que apresentou o case "Eficiência Energética".
Informações à imprensa
Caroline Borralho | carolineborralho@eim.ind.br
(85) 9 8739.3197| (85) 3474.5000